Obituary – David Salusbury
It is with great sadness that the President of the International Union of Property Owners, Stratos Paradias, announces the death of former Vice-President David Salusbury on Saturday 21 April 2018.
Involvement at UIPI
David was an important figure of UIPI and a very active Vice-President ever since he brought the UK National Landlords Association (NLA) into the international union some 15 years ago. By pushing for and supporting the creation of the UIPI Brussels Office in charge of conducting public affairs activities, he played a great role in the professionalisation of the organisation and its property owners' representation role at European level. He stood as Chairman of the UIPI European Affairs Committee from its creation until he retired from his functions at UIPI in late 2016.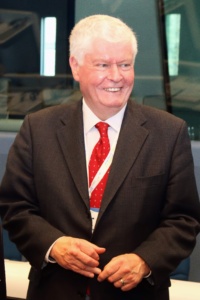 Commitment to promote the UK private-rented sector
David started to work to promote property owners' interests when he joined the NLA (then the Small Landlords Association) in 1988. He successfully steered the organisation between 2003-2013. As Chairman, he oversaw the growth of the organisation from its origins to the largest and leading body representing the private sector landlord in the UK. From the outset, he has actively contributed to influence public policy for and raise standards in the private-rented sector. After stepping down from NLA chairmanship, he continued to operate as a NLA Director and Chairman of Tenancy Deposit Protection scheme my|deposits and the UK Association of Letting Agents (UKALA) for some years.
Earlier life
After graduating from King's College London, where he read modern languages, David spent 30 years in the Royal Armed Forces where he went from active service, including commanding a RAF Regiment wing known as the Rock Apes, to service in Washington as liaison for the Ministry of Defence. He left in 1996 in the rank of Group Captain. In the mid-1980s, he began developing a portfolio of residential property in Kingston upon Thames and London, becoming a full-time landlord in 1995.
His greatest pride were his sons who both served in the British Forces. He will be greatly missed by his friends at UIPI.
Our deepest condolences to his wife Rosemarie and his family.