UIPI-Confedilizia Parliamentary Event
Tax Policy and Economic Growth:
Does It Really Matter?
25 September 2018
Brussels, Belgium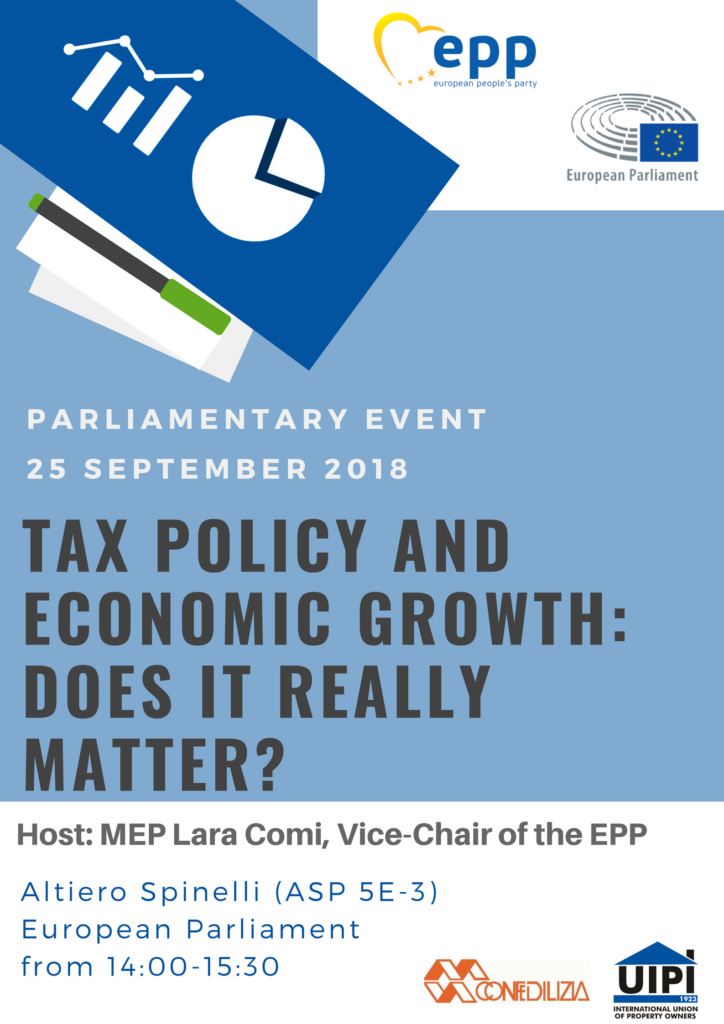 On 25 September 2018, the International Union of Property Owners (UIPI) and its Italian member association, CONFEDILIZIA, co-organised an event at the European Parliament to bring new insights into the debate on fiscal policy and economic growth.
Current discussions on tax policy are focusing on optimising economic growth. Leading research in the field argues that growth-friendly tax structures require a shift of tax burden away from labour onto other types of taxation, which are meant to be less harmful to growth and employment, such as on consumption, environmental or recurrent property tax. This is the approach implied by the European Commission when analysing taxation policies across Member States and their impact on their macroeconomic performances within the European Economic Governance framework. Yet, is it that simple? Fiscal policy is a complex matter and the lack of sufficient data in this context makes it difficult to draw robust conclusions.
Hosted by MEP Lara Comi, this event brought together several Members of the European Parliament, major European real estate stakeholders as well as prominent researchers from the academic world. Yesterday's discussion focused on the results of a recent empirical study questioning the robustness of the correlation between revenue-neutral tax shifts and economic growth, which was conducted by Professor Riccardo Puglisi from the University of Pavia (IT).
MEP Lara Comi, Vice-President of the European People Party, said:
"The only way to relaunch the real estate sector is through fiscal policy!"
Giorgio Spaziani Testa, President of Confedilizia, added:
"The time has come to launch new policies in Italy that are capable of attracting internal and external investments. Today's event is one of the ways to reiterate it, through the deepening of an essential aspect such as the relationship between tax policies and economic growth."
Stratos Paradias, President of the International Union of Property Owners, concluded:
"Fiscal policy is a very complex matter. In order for Member States to take ownership of the European Semester, we need to allow for policy experimentation to be able to collect sufficient data."
European Parliament, Brussels