Rising energy prices: UIPI welcomes EU green light to take national actions to relief citizens
October 2021 
Brussels, Belgium
A series of market, geographic and political factors have coalesced into a perfect storm leading to a record-breaking surge in energy prices that shows no signs of abetting as the continent enters the autumn season, when heating becomes indispensable. This surge in energy prices has inevitably brought the EU's climate and energy policy under renewed scrutiny and requested urgent actions.
On 13 October, the European Commission adopted a Communication on Energy Prices, i.e. a list of recommendations to tackle the situation and mitigate its negative impacts while respecting the EU's overarching climate objectives. The Communication includes a "toolbox" that the EU and its Member States can use to address the immediate impact of current prices increases, and further strengthen resilience against future shocks. Short-term national measures are crucial for the moment, and these include emergency income support to households, state aid for companies, and targeted tax reductions. It also includes protection measures for vulnerable households, including preventing disconnections and tightened regulatory surveillance to protect consumers from unfair market practices such as arbitrary increases in bills without the consumers' consent. All these measures are strongly supported by UIPI network.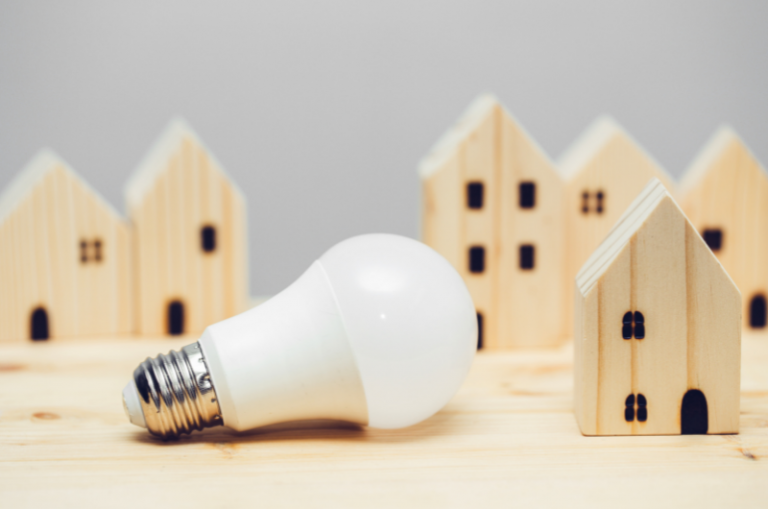 In addition, the Commission also reiterated the need for long-term investments in renewable energy and energy efficiency and suggested that Member States examine possible measures on energy storage and purchasing of gas reserves, as well as assess the current electricity market design.  
The European Commission proposal was welcomed by the European Council during mid-October. 
The Heads of State and Government invited the Commission to study and assess the functioning of the gas and electricity markets, as well as the EU ETS. As a follow-up, an extraordinary Council of energy ministers meeting was organised on the 26th of October 2021, where it was agreed that the toolbox provides a useful European framework to coordinate national actions. Ministers discussed possible options for the medium and long term, including reforming the functioning of the wholesale electricity market, voluntary joint purchase schemes for gas, and EU-level solutions for storage. Many insisted that investments in renewable energies, energy efficiency, and integration of energy systems remain key in increasing the resilience of the EU's energy systems.
As for the short-term measures, the Council agreed that measures at a national level should be taken urgently. So far, according to European Commissioner for Energy Kadri Simson, 19 Member States have taken or have pledged to take measures. The table below display some of the measures taken by Member States.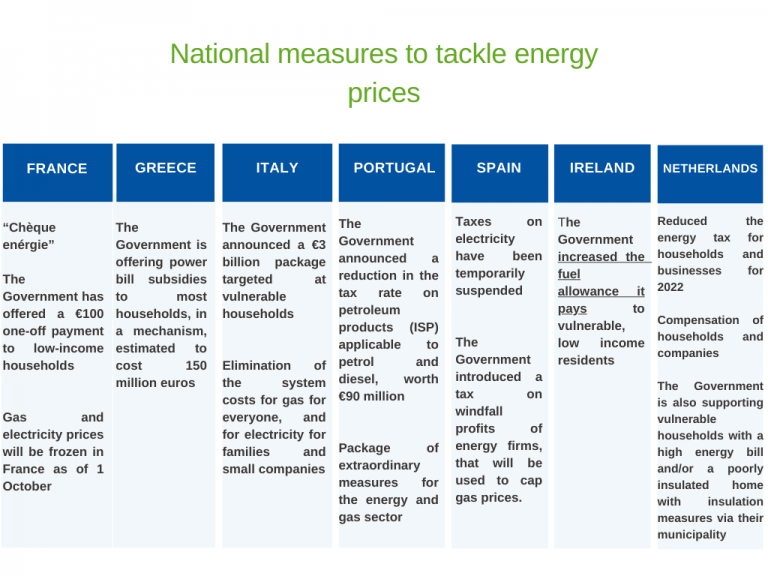 Emmanuelle Causse, UIPI Secretary General commented: 
"Analysts are already warning about the amplitude and duration of the crisis, which is exacerbated by a mixture of temporary and structural problems, and the worst may yet to come. Without a doubt, the EU's exposure to volatile energy prices is poised to remain a risk in the coming years for homes across Europe before the green shift brings the anticipated stability to the market. Many member states have started to take concrete and immediate actions to protect their citizens and provide direct assistance even more so as winter is knocking on our doors. But more direct actions are needed! Looking ahead, the focus should be on reducing our dependency on increasingly volatile fossil fuel prices. Part of the solution is to improve energy efficiency and make electricity production cheaper by increasing the share of renewables in our energy mix. For that, we should encourage citizens and businesses to produce their own electricity by removing existing barriers to renewable energy installation and counterproductive taxes on-own production. We should facilitate consumer participation in energy communities. We should support the uptake of energy efficiency notably in the building sector by focusing on removing barriers and promoting further incentives, but by being careful to avoid additional regulatory and financial pressures and burdens for consumers."