RENT CONTROL VIOLATES THE HUMAN RIGHT TO PROPERTY!
INTERNATIONAL PROPERTY DAY 2018
Friday 26 October
Hotel "Pousada de Lisboa"
Lisbon, Portugal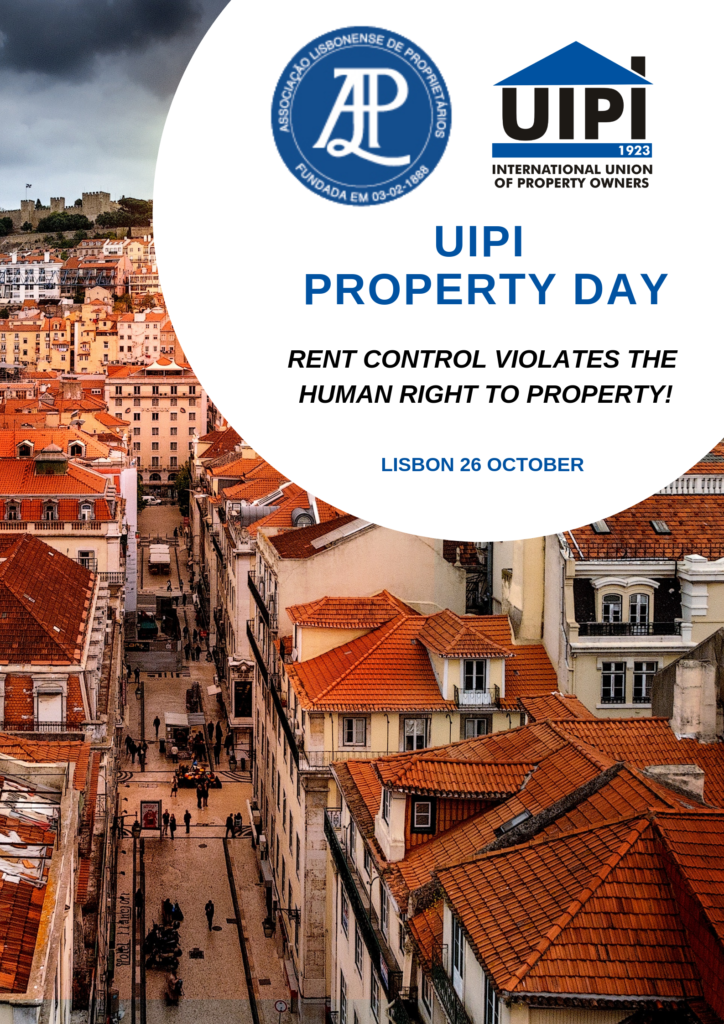 Overview
Hosted by the Portuguese member of UIPI, ALP (Associação Lisbonense de Proprietários- Lisbon Association of Property Owners), the International Union of Property Owners' annual International "Property Day" is taking place in Lisbon on 26 October 2018 to discuss the legal challenges caused by rent control to property right.
Portugal has one of the oldest rent control systems in the world. This over hundred-year-old control law, along with sporadic rent freezes, has had a considerable impact on Portuguese economy and real estate market. The Economic Adjustment Programme for Portugal, put in place during the financial crisis, called for its abolition.
This was meant to be done by a 2012 reform of rental law after a five-year transition period. However, the current Portuguese government has extended it for specific categories of tenants and for historical, touristic and commercial properties.
The economic and social impacts of rent control measures are widely discussed, including by experts of the IMF, OECD and the European Commission, who consider that in the long run rent control appears to have a significant destabilising impact on the aggregate housing market. Yet, the discussion has also a legal dimension and one can question the constitutionality of these measures and to which extend they respect the right to private property. This right is enshrined in Article 1 of Protocol 1 to the ECHR, as well as in Article 17 of the EU Charter of Fundamental Rights, and its long-standing centrality as human right is undisputed.
According to its common interpretation, its scope has to be determined in light of the principle of lawfulness, legitimate aim and fairness. Arguably, rent control fails to secure a fair and proportionate enjoyment of ownership right. This is the topic that will be brought to the discussion during UIPI property day in Lisbon.
Programme of the Official Property Day Celebration
Hotel "Pousada de Lisboa"
Praça do Comércio, 31-34 – 1100-148 Lisboa
10:00 – 12:00  Property Day – Official celebration ceremony
Welcome speech: Prof. Luís Menezes Leitão, ALP President
Opening speech:Stratos Paradias, UIPI President
Keynote speakers: 
Dr. Miguel Marques dos Santos (VdA – Vieira de Almeida & Associados):

"Portuguese Lease Law: going back and forward for the last 20 years"   

Prof. David Magalhães (Professor in Law, University in Coimbra): 

"Rent regulation: a vicious attack on human rights"
12:00 – 13:00 Press Conference
 Palácio de Belém
Praça Afonso de Albuquerque, 1349-022 Lisboa, Portugal
15:00 Reception hosted by the President of the Portuguese Republic Marcelo Rebelo de Sousa, at the Presidential Palace
The Official Property Day celebration will be preceded by UIPI Board and Working Committees meetings on 25 October.

Hotel "Pousada de Lisboa" | Praça do Comércio, 31-34 | 1100-148 Lisboa | Portugal