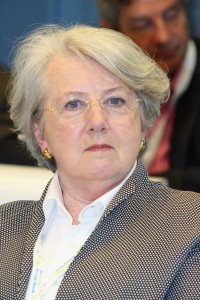 France Bauvin was elected by UIPI Executive Committee during its Brussels meeting on 27 September  2014 to lead the administration of the association.
She will be seconded by Dr. Kai Warnecke, Managing Director of Haus & Grund Deutschland, who has been confirmed in his position of Assistant Secretary General.
France Bauvin is an Administrator of the Union Nationale de la Propriete Immobiliere (UNPI) in Department 44, Loire-Atlantique in the Prefecture of Nantes, Pays de la Loire. She holds office as one of the Administrators of the National Federation of UNPI and is their European Delegate. She was also until now one of the Vice-Presidents of the UIPI. In her professional career, France has held high financial and management responsibilities in several companies; including spending thirty years working for a global industrial group.
Stratos Paradias, President of UIPI said:
I am very pleased with this choice! France Bauvin is a powerful woman with an extended international experience. Her involvement in the UIPI is already considerable and much appreciated. She represents one of the founding and stronger associations of the UIPI, the UNPI.
During her time as Secretary General, Beatrice played a leading role in the establishment of the UIPI in Brussels and its professionalization, with her enthusiasm to its development. We are extremely grateful for her great contribution.
I am convinced that France will continue on the same path and further increase the role of the UIPI to guarantee the best representation of the interests of homeowners and private landlords in Europe.