Tax Policy and Economic Growth: Does it really matter?
CONFEDILIZIA-UIPI Parliamentary Event
25 September 2018
 European Parliament
Following the need for stronger economic gover­nance and coordination at EU level, national taxation policy became one of the key policies monitored through the European Semester. A common policy recommendation from the European Commission and other international institutions is to shift taxes away from labour to tax bases which are considered less detrimental to growth.
The purpose of this event is to bring into the discussion new empirical evidence on the relationship between taxation, tax shift and growth. At this occasion, we will present a study demonstrating that while a negative and substantial relationship between the overall tax revenue and growth can be identified in some cases, no significant and robust relations between various types of revenue-neutral tax shift and growth can be established.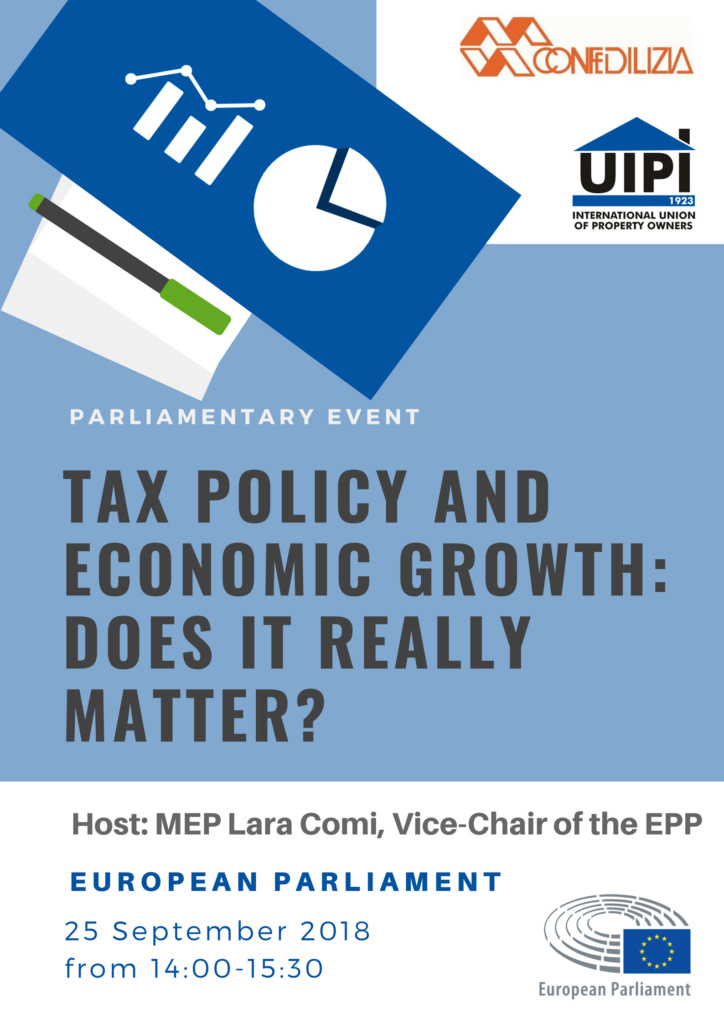 Confedilizia is the historic federation of real estate property owners in Italy. With over 200 local and regional offices, Confedilizia represents homeowners, condominiums, private landlords in both the residential and commercial sectors as well as large real estate investors. 

The International Union of Property Owners is a pan-European not-for-profit association comprising 29 organisations from 28 countries. Jointly, they represent more than 5 million private landlords and owner-occupiers and some 25 million dwellings. Founded in 1923, UIPI aims at protecting and promoting the interests, needs and concerns of private property owners.
Copyright © 2018 UIPI ASBL, All rights reserved.
Our mailing address is:
office@uipi.com 
 UIPI Privacy Policy
The International Union of Property Owners – Union Internationale de la Propriété Immobilière (UIPI)
24 Boulevard de l'Empereur, B-1000 Brussels
www.uipi.com